FOR IMMEDIATE RELEASE
Contact Lauren Vito, 570-579-8500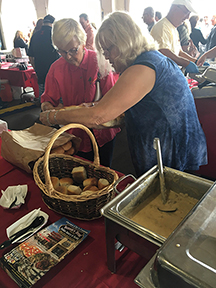 OCEAN CITY, NJ - The Ocean City Restaurant Association (OCRA) hosted its first annual fundraising festival raising $3,000 for the Humane Society of Ocean City.
"The Humane Society is thankful to OCRA for their donation to our organization. We appreciate the support from our community," said Bill Hollingsworth, executive director of the Humane Society of Ocean City.
Steaming cups of soup from restaurants all over Ocean City were dished out to over 500 hungry patrons at the premier Chili Chowder Festival event this past October. Families lined up for tastings from Ocean City restaurants Varsity Inn, Frankie's On the Bay, Bennie's Bread, Clancy's, Jon and Patty's, Arlene's, Island Grill, Chatterbox, Randazzo's, Starfish Grill, and Cousin's. Johnny B Goode Ice Cream Parlor provided water and soft drinks. With a DJ playing music and tables lined with hot soups and decadent desserts - it was a festive fall scene on the Ocean City Boardwalk.
OCRA is committed not only to serving delicious

food, but to giving back to the community

through fundraising events like the Chili

Chowder Festival. This year's beneficiary - the

Humane Society of Ocean City is a no-kill

shelter on Shelter Road near the Tennessee

Avenue Soccer Complex. The festival was

sponsored by Ocean City magazine