FOR IMMEDIATE RELEASE
Contact Bill McGinnity – 609-457-7112
The Ocean City Restaurant Association raises $10,500 for local charities
OCEAN CITY, NJ - The Ocean City Restaurant Association (OCRA) hosted its third annual Chili/Chowder Festival on October 14 at the Music Pier. Through ticket sales and donations, OCRA has raised over $10,500 since launching its annual Chili Chowder Festival. Proceeds have benefited the Humane Society of Ocean City and the Ocean City Firefighters Foundation run by the local #4032 union of the International Association of Firefighters. The festival is sponsored by Ocean City Magazine – www.ocnjmagazine.com.
Steaming cups of chili and chowders from restaurants all over Ocean City were dished out to hundreds of hungry patrons at the Chili Chowder Fest this past October. Families lined up for tastings from Ocean City restaurants including Cousins Restaurant, Island Grill, Bennie's Bread, Clancy's, Jon and Patty's, Arlene's, Randazzo's, Soma Café, Yianni's Cafe, and Starfish Cafe. Hot Dogs for the kids and water bottles were provided by fellow OCRA members Blitz Markets and Johnny B Goode Ice Cream Parlors.
Fireman Steve Peifer defended his title as the winner of last year's Chili Cook Off between the three Fire Stations in OC. This year, the title went to Jason Boyle representing Station 1. With a WIBG DJ playing music, balloon animals and face painting for the kids, tables lined with hot chilis and chowders and a fun atmosphere - it was, once again, a festive fall scene on the Ocean City Boardwalk.
OCRA is committed not only to serving delicious food, but to giving back to the community through fundraising events like the Chili Chowder Festival.
"We are grateful for the support of the OCRA membership as well as the community who came to support OCFD's Charitable Foundation" said Jane Davis, treasurer of the Restaurant Association and owner of Johnny B Goode Ice Cream Parlors.
This year's beneficiary - the Ocean City Firefighters Foundation - is a local organization that is supported by direct donations throughout the year such as this one given by OCRA. Monies raised support scholarships and rewards that are distributed locally to Ocean City High School, Intermediate, and Primary school students, the Junior Miss Ocean City Pageant, Ocean City Humane Society, Waves for Caring and many other recipients. For more information on the Foundation, visit www.oceancityfirefighters.com.
For more information, please visit www.EatinOCNJ.com or email ocra@eatinocnj.com.
Press Release Photo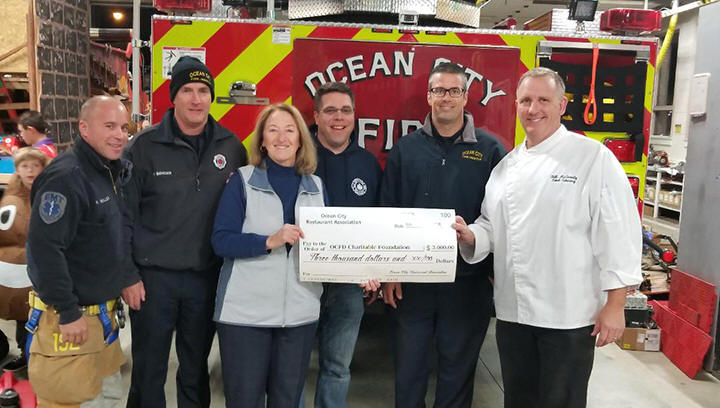 Left to Right
Firemen Kevin Muller and Bob Bender, Jane Davis, Johnny B Goode Ice Cream Parlor, Fire Chief Jim Smith, Fireman Jason Boyle, Bill McGinnity, Cousin's Restaurant